Do you dream of seeing East Africa's wildebeest migration?

Then you need to read this before committing thousands of dollars for something which may prove to be a disappointment. Or at the least be different than what you imagine.
Don't get me wrong– going on an African safari is rarely a disappointment. You will see more wildlife than you ever imagined.
But, if you're hoping to specifically see the migration of the wildebeest, recently named one of Africa's seven wonders, it's essential you understand how Africa's wildebeest migration works.
Typically the wildebeest migration is described something like this:
"The endless plains of east Africa are the setting for the world's greatest wildlife spectacle– the 2 million animal migration…"
And, typically photos of the wildebeest migration look something like this: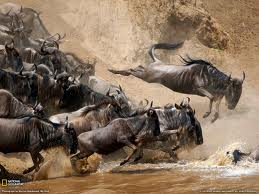 Unfortunately, the descriptions and photos can be misleading.
Let me explain why. 
Understanding East Africa's Wildebeest Migration
East Africa's wildebeest migration is the longest and largest overland migration in the world.

One and a half million wildebeest (also called 'gnu' locally), and almost a quarter of a million other wildlife (zebra and gazelles) migrate in a mostly continuous clockwise circle in their search for new growth grass.
There is no real beginning or end to the wildebeests' journey: over 1,800 miles from Tanzania to Kenya and back again.

But what you need to understand is: The almost 2 million migrating animals don't move in a continuous stream together.

Rather, the wildebeest (and other animals) are broken into small groups that move along at their own pace.
When you see the wildebeest you are most likely to see something like this: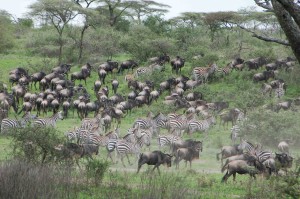 And, if you're lucky, or you witness the migration from the air,
you may see large groups of thousands (not millions) of animals together, like this: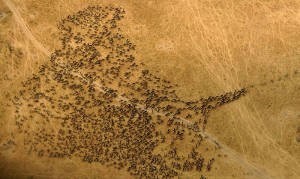 As I mentioned, the typical photos that accompany stories of the wildebeest migration are misleading.
Most photos are taken during the 'crossing', so named when the migrating herds cross the crocodile-invested Mara River from Tanzania's Serengeti National Park into Kenya's Maasai Mara National Reserve sometime between July and October.
But even if you arrive at the Mara River at the right time of year, you still may not witness a crossing.
The animals can graze for hours and even days before the leader of the group decides to risk crossing the river.
Discovery and other nature channel photographers can sit at the river for a month waiting for good 'crossing' photo opportunities.
Most people on safari don't have that luxury.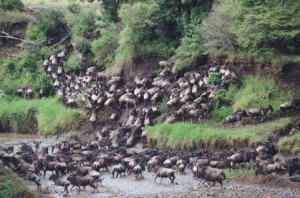 To witness a crossing you will not only need a lot of patience, but also a strong constitution. The river is full of bloated dead animals.

The stench was unbearable for my last group of travelers, even if they did have the patience. They chose not to wait for the possibility of a 'crossing'.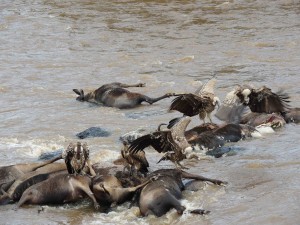 Telling you these things is not meant to deter you from your dreams of seeing  Africa's wildebeest migration. I only want to make sure you are not disappointed. Besides, you may be one of the lucky ones who gets to the river just as the animals are crossing over. In that case I hope when you get home you will tell me all about it.