Did you know animals in Africa eat the plastic bag litter and die? Watch this video for Africa Inside's simple solution to save animals from Plastic Bag Pollution in Africa.
Plastic Bag Pollution in Africa:
is eaten by elephants, warthogs, cows and goats who then die from having ingested the bags

clogs rivers and streams, and gets caught in bushes, grasses and trees

releases harmful toxins into the environment when it is burned ( a typical way to get rid of garbage)

is potentially dangerous to curious animals in Africa (as is all litter)
Africa Inside engages rural communities in a simple solution to to clean up the plastic bag litter and save animals.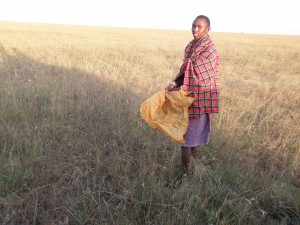 Saving Animals One plastic bag at a time
We organize an exchange:
1 canvas shopping tote from America is exchanged for 25 plastic bag litter cleaned from the African rural countryside.
1 Tote = 25 plastic bags. Simple. 
The totes are a gift, and offer an alternative to future plastic bag use, thereby saving animals from ingesting plastic bag pollution.
IN ONE HOUR AN EXCHANGE REMOVES 320,000 BAGS FROM THE PLASTIC POLLUTION CYCLE, Saving lives of countless animals in africa !

 
Dedicated 'Bag Ladies' (and men) from across the United States collect totes from friends and family to send to Africa for the exchange.
PRESS RELEASES ON THIS PROGRAM:
HELP US SAVE AFRICA'S ANIMALS
Our most recent plastic bag clean up

project in Samburu

, Kenya in February 2014 was a huge sucess.
We need people who are traveling from America on Safari in Africa to carry totes as extra luggage for us. Please spread the word.
To help: make a financial contribution. Any amount is appreciated.
EASY STEPS YOU CAN TAKE TO REDUCE PLASTIC BAG POLLUTION IN YOUR LIFE: 
1. CARRY REUSABLE SHOPPING BAGS  Keep them in the front of your car so you don't forget to use them.
2.  RECYCLE THE PLASTIC BAGS YOU ALREADY HAVE  Most grocery stores take back plastic bags and now some cities allow plastic bags to be recycled in your curbside recycling container.
3. USE BIOBAGS (found at Whole Foods), or Plastic with high recycled content (found under green labels in grocery stores) in your garbage cans. For more on Plastic Pollution from Bags find out where the movie BAGIT is playing near you.
4. DON'T DRINK PLASTIC BOTTLED WATER! Why? Because once your are done with the water, you have to dispose of the bottle. The bottles leach carcinogenic toxins when reused.
5. USE LESS PLASTIC PRODUCE BAGS: WASH, DRY and REUSE THE ONES YOU HAVE. USE COTTON MESH BAGS OR NOTHING. Put more than one vegetable in each bag.
6. BUY FROM BULK BINS, FARMERS MARKETS AND AVOID PRE-PACKAGED PRODUCE (sorry Trader Joe's). Keep and reuse bags to carry your bulk items home.
7. CARRY A REUSABLE CONTAINER or a piece of tin foil FOR RESTAURANT LEFTOVERS
8. CHOOSE MILK IN RETURNABLE GLASS BOTTLES
9. USE BAR SOAP, NOT LIQUID (IT COMES IN A PLASTIC CONTAINER).
10. MAKE SURE YOUR PERSONAL CARE PRODUCTS ARE PHTHALATE-FREE. Phthalates are plasticizers that help fragrances last longer.
11. CONTACT YOUR LOCAL OFFICIALS TO START A BAN ON SINGLE USE PLASTIC IN YOUR AREA. Many areas have already banned their use, but if your city hasn't, take action.
12. PASS THIS ON TO EVERYONE YOU KNOW.
FOR MORE ON PLASTIC BAG POLLUTION , I recommend the blog 'my plastic-free life'.