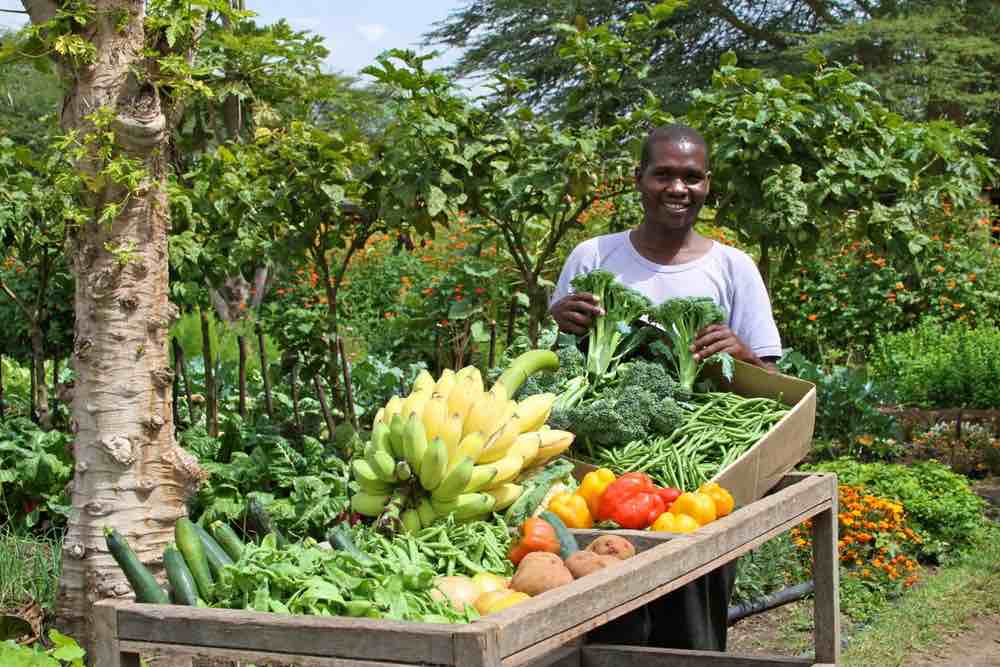 Last year while traveling in East Africa I met an exceptional young man, permaculture practitioner George Kaberia. He is a 35 year-old Kenyan who is saving wildlife and wild places through gardening. I think you will love his story.
George works at Sirikoi, a safari lodge situated smack dab in the center of Kenya. One day, after eating yet another exceptional organic meal of berries, greens and even fresh turmeric from Sirikoi's on-site kitchen garden, I asked if I could get a tour of the vegetable patch.
George enthusiastically leads me through an acre of land he maintains using permaculture methods. If you haven't heard of permaculture it's a way of gardening that takes advantage of the different characteristics of plants to produce more while using less water and no chemicals.
We walk alongside mounds of peppers, potatoes, spinach, basil, bananas, and raspberries interspersed with marigolds under the arms of avocado, mango and citrus trees. "It's called companion planting, George explains. "Garlic chives protect carrots, and leeks protect broccoli, from aphids and white fly. The trees provide shade."
Chickens, used for eggs and meat and manure compost, peck around our feet looking for bugs, while worms enclosed in a massive bin are eating their way through weeds and leaf scraps to make compost and 'liquid gold', a juice used as natural fertilizer. The idea is to "continually add beneficial fungus and bacteria to the soil as food for  the plants," says George. From the looks of the lush leaves and abundant produce, it's working in spades.
You have to understand what a surprise this is. On a continent whose small farmers are known for single crop production (lots of bananas), and the increasingly more common practice (thanks to the USA) of using fertilizers and chemicals, having this kind of variety, and all of it organic, is novel.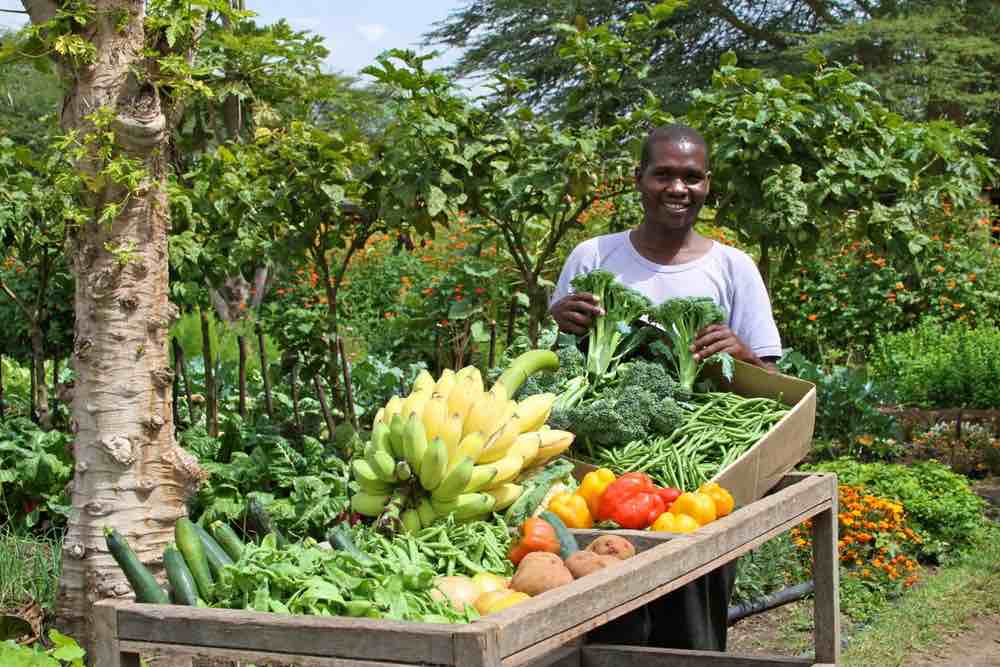 George first learned about permaculture while working for a non- governmental organization in 2013. "It made so much sense" that he brought the ideas home to practice on his own garden and then to Sirikoi.
George shares his permaculture gospel to anyone who will listen. With George's help, numerous people in his home village are using his techniques in their gardens.
And now he wants his ideas to grow bigger. "My plan is to help more and more people in surrounding villages raise vegetables without chemicals and by using less water. A lot of people now have cancer because of chemicals being used on their gardens."
He also wants to help pastoral people like the Samburu, Turkana, and Maasai to practice farming instead of relying on the government for relief food.
All of this helps save wildlife. Food insecurity is one of the main causes of bush meat poaching, and poisoned soils and plants contaminate little critters that are then eaten by larger animals, and so on, up the food chain.  
For this reason, George is this years Saving Wild hero. (To see past heroes go here and here.)
With a cash contribution Saving Wild will help support George to help others have lush organic gardens to feed their families, and save wildlife all at the same time.
The best part is that one of my safari clients will be going to Sirikoi in October and can hand deliver the cash to George. Direct delivery is the best way I know of to make sure the donation gets to the actual person who will most benefit. This is grassroots support at its most effective and it's what Saving Wild specializes in. (Remember SavingWild's super successful on-the-ground plastic clean up program?)
If you would like to help George spread the seeds of his great work (sorry for the pun, I couldn't help myself) you have two options:
1) Donate to our umbrella non-profit. You will get a tax deduction but a small portion will go to them for their services. Here is the donate button:
     2) Send a check to me (I will cash it and add it (100%) to the envelope being delivered to George).
Feel free to contact me with any questions about permaculture, George's plans or visiting Sirikoi.
Email me at savingwildblog@gmail.com
LvL
If you were inspired by this post, please like and share it: