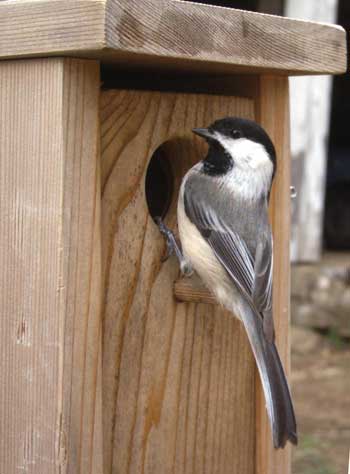 This bird box story was told to me by Janie Chodosh, the co-author of my new book, Wild Lives. I loved the story so much I asked her to write it up for all of you to read. I think it's a perfect inspirational tale in celebration of Earth Day. 
Improving the World One Bird Box at a Time
My husband has gone crazy—but not in the way you might think.
After finding a dead bewick's wren that he had accidentally killed in our garage, he decided to make amends by building a bird box to give these lovely songbirds a place to nest. His logic made perfect sense to me: if he could make a home for a pair of bewick's wrens to nest and fledge young, he'd add to the population and feel less horrific about the deceased bird.
One trip to the lumber store later, he built a beautiful nest box, put it up in a tree, and together we admired his work. But making one bird box, it turns out, wasn't enough for my husband. If one box was good, one a week for a whole year, a total of 52, would be better.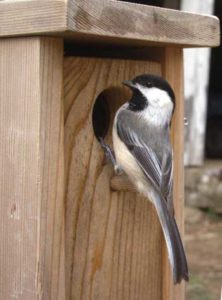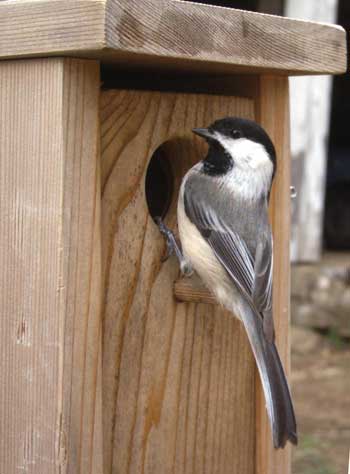 Twenty nesting boxes later, some with smaller holes for chickadees and titmice, others with larger holes for tyrant flycatchers (and one for a downy woodpecker who whittled out the hole to her own liking), I convinced him to stop. Some species, it turns out, won't nest if too many other birds of the same kind are in close proximity, and our yard was already maxed out in the bird box sense. It was on the verge of becoming urban crowding for the bird world.
He didn't want to stop, though, so I suggested he gift his ongoing supply of nesting boxes to other people who adore our feathered companions as much as we do.
Gifting bird boxes, it turns out, wasn't enough for him either, so he coined phase three of the project: building nest boxes and surreptitiously placing them in open spaces around town. This project morphed from his project to our project. I love the whole idea of guerilla habitat improvement. It reminds me of Miss Rumphius, the picture book I used to read to my daughter about the woman who planted lupine flowers across her community as a way to make the world more beautiful. With the fabulous Miss Alice Rumphius as my mentor, my husband and I placed our first nest box in a cottonwood tree in the open space behind our house— a perfect location for some habitat improvement. Next we plan to adorn unsuspecting trees in city parks, places where there are birds, but no habitat for cavity nesters to have a good tree hole in which to raise their young.
I don't know what will happen in these guerilla locations, but I know what has happened in my back yard. With the water, seed, nesting fluff (a ball of wool offering for birds to line their nests) and 20 nest boxes, our yard has become a bird sanctuary, a back yard habitat where any bird is welcome and none is turned away.
We might not be saving the world with our bird boxes, but certainly some chickadees, wrens, titmice, and woodpeckers are enjoying a little extra help this spring in finding a place to raise their young.
I like to think that the bewick's wren that died in the garage would be pleased.
If you were inspired by this post, please like and share it: