It's an unexplainable phenomena. Through all the years I've been leading safaris in Africa, with no understanding of how or why it happens, each group has more sightings of one specific species of animal than another.
For instance, on one trip it was cheetah. Almost every time we went out on our wildlife drives we saw the endangered cat. With other groups I often saw none. I have had lion, elephant, and rhino centered trips. And zebra, small cat, and raptor trips.
My most recent safari was definitely a giraffe trip. We watched hundreds of them, sometimes alone, often in towers (the official term for a herd of giraffes). More giraffes than on any other tour I've led. Could it be because there were several people on this safari who love giraffes and really wanted to see them? Do the animals sense our need and show up for us?
After I left what I'm now calling the twiga (Swahili for giraffe) trip, the encounters continued while I travelled on my own. After three total weeks of constant giraffe energy I became just a little obsessed with them.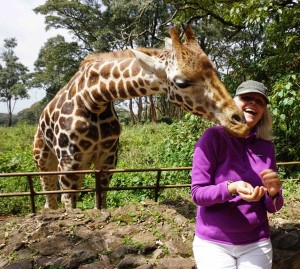 Up Close and Personal
"Let her come to you." The keeper at Sirikoi Lodge in Northern Kenya is talking about Nditu, a five year old Reticulated giraffe heading towards me, her gait like rolling ocean waves. She has lived here since she was found orphaned in the wild at only a few months old. "Don't make any sudden movements or talk loudly," I'm warned.
Next to her I could easily tuck my 5'9 inch frame under her belly. She is that tall. I don't know her exact height but adult giraffes stand 16 -18 feet high. I strain my neck all the way back. From her chest upwards she seems to disappear into the sky, her head in the clouds.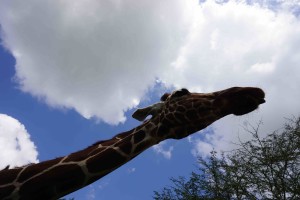 Although I have been told she is a powerful animal, she can kill me with a kick from her front or back legs, she feels like a gentle soul.
Almost in slow motion Nditu gracefully lowers her head to eat the dry horse food I'm holding in my palm. Her bluish grey 18-inch long tongue leaves a sticky residue on my hands. It's an antiseptic to help heal the constant pricks giraffes tongues suffer from eating the leaves of their favorite tree in the wild, the sharp-thorned acacia.
Nditu's best friend Twinkle, a horse she was raised with, has recently given birth. Sue Roberts, the owner of Sirikoi, tells me Nditu acts a little like a nanny to the new foal, following it around the property.
Meanwhile two wild giraffe suitors have been showing up recently to court Nditu. She is free to walk off with them at any time. Sue thinks (and hopes for Nditu's sake) that day will be soon.
Saving the Rothchild's Giraffe
At the end of my trip I visit the Giraffe Center outside of Nairobi.
Three subspecies of giraffe are found in Kenya: the Reticulated, Masai, and the most endangered, the Rothchild's giraffe. In 1979 after learning that there were only 120 Rothchild's giraffes left in the world (found only in Kenya and Uganda) a Mr. and Mrs. Melville captured two of them from the wild and started a breeding program in a suburb of Nairobi to save the Rothchild's from certain extinction. In the 60's and 70's giraffes were poached for their long tail hairs (which feel a little like wire – I found one once while hiking in South Africa). The hairs were bound together and used as fly swatters. Their skin was used for sleeping mats, and drum heads, and their meat was consumed. Now the issue is mostly habitat loss.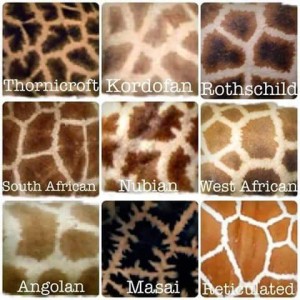 Here at the Giraffe Center forty-six offspring of the resident female giraffes – Daisy, Stacy, Betty and Kelly – have been put back in the wild in areas with an invested interest in protecting the animals.
I learned all of this from 28-year-old Evans, an intern who lovingly caresses the giraffes while he answers questions from tourists. But most people don't come here to learn about giraffes. They come here to kiss them.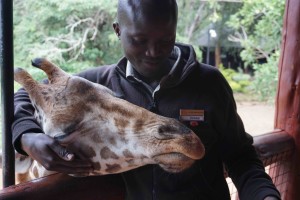 Giraffe Candy
Enticed by pellets of dried grass, corn, wheat, and molasses as a binder, that the tourists hold in their mouths, the giraffes spend their day being touched, coddled, and kissed.
The pellets are one of the down sides of this otherwise wonderful program. They are like candy. Evan and others I spoke to admit if the animals eat too many of them, they get sick and need to be treated for stomach ailments, lethargy, and weight gain to the point of becoming arthritic.
It happened that during my visit I met a young American visiting Africa for her first time. Back home she is a zookeeper in charge of giraffes. I expressed my concern about the pellets being like candy and addictive, and she said greens would be a great alternative.
Apparently the center used to feed the giraffes carrots but the giraffes stopped grazing on natural foods when they were fed carrots. Evans tells me it's a dilemma, "At least with pellets the animals still graze on trees and bushes" in the 120 acre area they roam at night after the candy giving tourists go home.
Now, more than ever, I am in love with giraffes – with their other worldly movements, their graceful calm manner, their saucer-sized soulful eyes. And I have learned to notice their individual patterns, each unique, like human fingerprints.
On this trip I got to know twiga more intimately. And maybe that was the point. Maybe that's why giraffes were the animal that for this safari showed up more than any other.
If you were inspired by this post, please like and share it: