Jackson Hole, Wyoming is cradled by the National Park lands of Teton and Yellowstone on one side, and Bridger, and the Wind River Range on the other. Having more contiguous protected land than any other area in the U.S.A. gives Jackson Hole's wildlife plenty of room to roam and thrive.
So, when I need a wildlife fix Jackson Hole is the place I go to most often in the USA. Especially during the spring and summer when the area is a wildlife lovers candy store.
People in Jackson discuss wildlife sightings the way people in Southern California talk about movies.
For two spring seasons in a row the  feature presentation was showing about 40 minutes north of town in a heart-shaped cavity in a cotton wood tree.
The stars: a pair of baby Great Horned owls. 
Matinees were best as the fledglings are more active around dusk.  I went out to see this show several times and never tired of watching it.
Anytime of year is a great time to experience Jackson Hole wildlife, but in spring baby everything's are everywhere. Fuzzy-haired, new-born moose are foraging with mom, young yellowish-brown bison are trying to keep up with the herd, and female grizzly bears with cubs cause 'bear (traffic) jams' on the roads.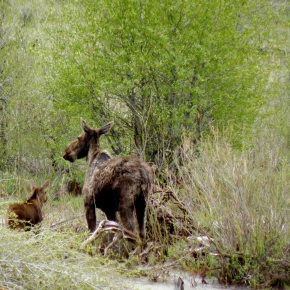 Birds are everywhere here too. I have never been a 'birder' but the bright yellow, red-headed male Western Tanager is slowly making me into one. If that species doesn't do it, the Mountain Blue bird will. 
The hummingbirds are everywhere here too.  I found one lying on the deck (it probably hit the window) in a puddle of water, and thought for sure it was dead. I needed only one finger to lift the emerald-green being into my warm palm. It stayed there, flat, with one wing spread to the side and its beak and throat against my skin.
Figuring it was in shock and dying, I remained motionless.  When the tiny bird looked up at me as if to say, "I'm ready", I propped up its head, and felt feet curl around my index finger. It looked around as one would do after regaining consciousness, then I heard the familiar buzzing noise as it flew to a tree branch close by.  Still wet and shaky I knew it was determined to go on.
Wildlife viewings are sacred to me.  And in places like Africa and Wyoming the odds for having them are in my favor.
If wild places and wildlife are sacred to you, sign up here at SavingWild.com:
If you were inspired by this post, please like and share it: