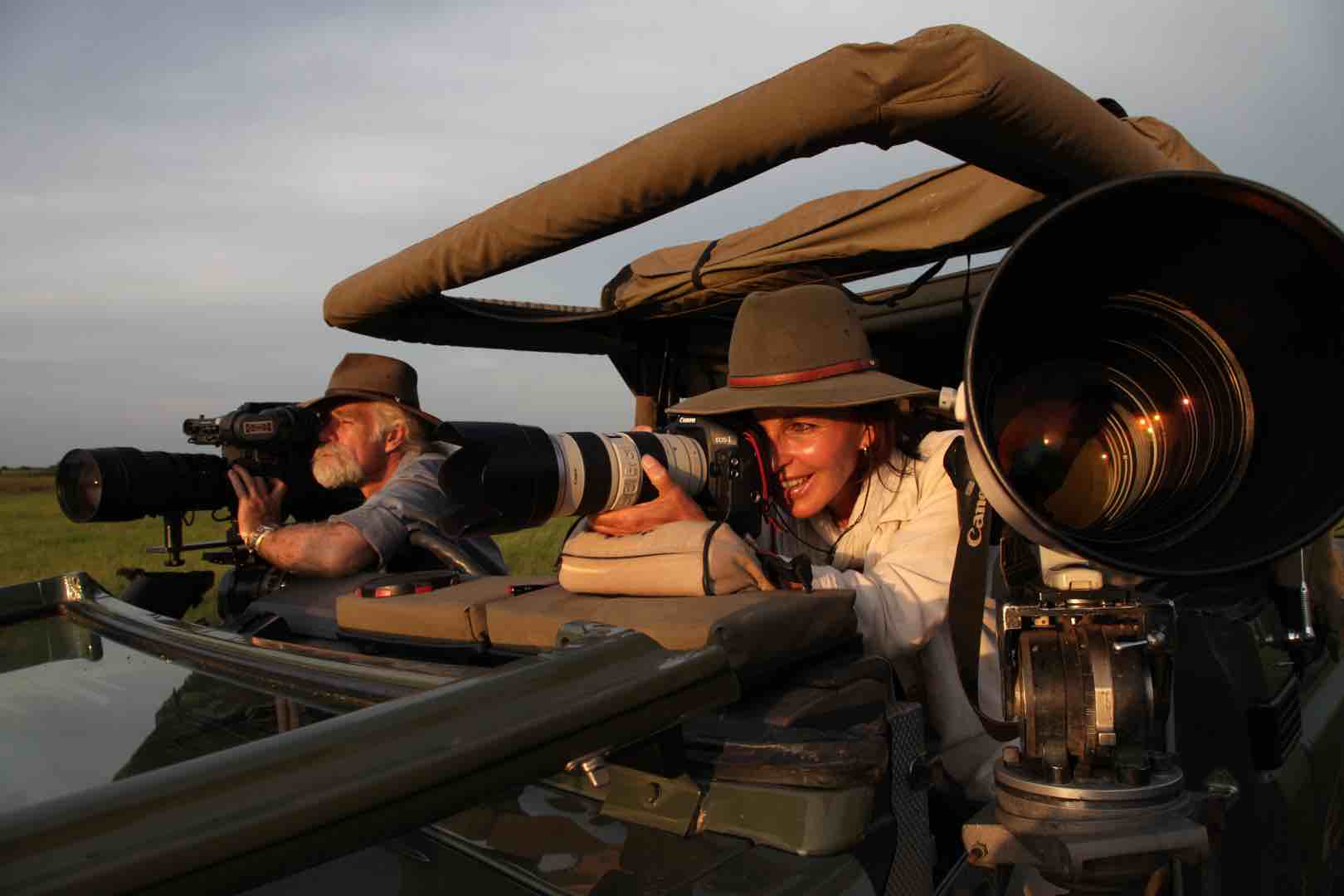 Seconds after meeting conservationist extraordinaire Beverly Joubert for the first time, she holds my hand as if we are BFF's. I found her to be generous, kind, warm and attentive -someone I would want as a best friend forever.
She is also, surprising because of her petite and feminine characteristics, a woman who has no problem living without things most people call necessities, like electricity and running water, and spending days in the relentless Botswana sun surrounded by animals that could easily kill her, while working alongside her husband Dereck Joubert as National Geographic Explorers in Residence.
One of conservations most hard working and effective couples; Dereck and Beverly Joubert have a wonderful love story. Both South Africans, they met in high school, and fell in love through their mutual love of wild places and wildlife and their desire to protect them.
During the past 30 years they have made 25 films, and written 11 books, six scientific papers, and many articles for National Geographic magazine, all focusing on large predator key stone species. Their body of work has resulted in eight Emmys, a Peabody, the World Ecology Award, and in 2009 they were inducted into the American Academy of Achievement.
Of all the conservationists I have met over the years, Beverly Joubert is perhaps the one I would most like to trade lives with, despite, as you will learn in this interview, the sacrifices and unusually tough circumstances her life's work requires.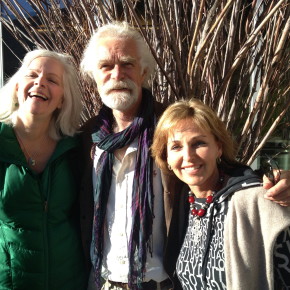 SAVING WILD'S INTERVIEW WITH BEVERLY JOUBERT
How did you decide to devote your life to wildlife conservation?
As a teenager I was troubled by what humans were doing to each other and other creatures and I wanted the world to change. I met Dereck in the late seventies and found a kindred soul. We started making wildlife films in the early eighties and began to understand the extent to which the wilderness areas we were filming were being destroyed. That's when we realized we were more than wildlife filmmakers. Our role was first and foremost to be conservationists.
What sacrifices have you made while becoming some of the worlds best conservation filmmakers?
Sometimes I wonder if Dereck and I appear to be aloof and abnormal because we are often on our own for months at a time filming a project. One film took 7 years to make, and the one about leopards took 5 years. During those times we lose contact with close friends, family, and the outside world.
We also made a decision not to have children. Our films are filled with the passion we would have given to a family, had we created one. It would have been impossible to do both but it has been a worthwhile sacrifice.
Obviously when we are in the wilderness we don't have 'luxuries' – everything from running hot and cold water, clean drinking water, fresh food (which would require a fridge), communication devices, or sophisticated tools to fix the inevitable breakdowns with our vehicle and bush plane. Those things are wonderful and make life so much easier but when we are in the field they become unimportant. In the bush things like getting 7 hours of sleep a night, staying dry and cool, avoiding insect bites and being able to shower and clean our clothes become the luxuries!
Working in the wilderness we are completely exposed to the elements and are often in remote areas where a quick exit is not an option. A major storm can interrupt our lives and, when we are in a small light aircraft, become life threatening.
All this makes our lives harder, but without experiencing the hardships we could not truly understand the wilderness, be as connected to it as we are, or become emotionally moved by it. And that makes our films more powerful.
You have said that in the last 50 years Africa has lost 90-95% of its large predators. They are now extinct in 26 of Africa's 54 countries. How do you stay inspired despite the increasing negative issues we face protecting wildlife and wild places?
Getting to know great individual characters like the little leopard we followed for over 5 years for our movie 'Eye of the Leopard' inspires us to speak out on behalf of wildlife, to be their voice. Through our films and my photography, we can keep attention on the problems and causes. We have become ambassadors for animals out of necessity and feel we must protect the last remaining ones in the few countries where they still exist. That, and the urgency of the situation, knowing all that could be lost also keeps us inspired to do more.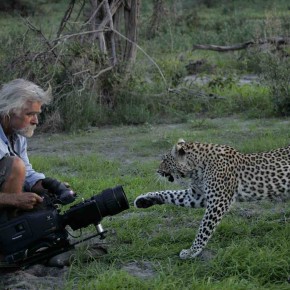 Why should people care about saving wild places and wildlife?
Wildlife and wild places are our greatest natural treasures – priceless and irreplaceable.
We live in a connected world, and with a collective heart and mind we can, and must, end the destruction. We cannot let humanity become like a deadly fungus that exterminates everything for lust and greed. While there is hope, all of us must continue to fight to protect wild places and wild animals.
Where do Dereck and Beverly Joubert find hope?
We are optimists at heart. If we weren't, we couldn't continue.
Right now it is rewarding to see that changes are happening, for example the banning of hunting in Botswana, and the banning of the ivory trade in the United States.
I also take heart that China is working with African governments to stop the importation of illegal rhino horn, ivory and lion bone.
Of course all of this should have happened years ago, and we might be too late, but it has given us hope that these laws are changing because maybe that means we (conservationists) have learned how to be more effective.
It takes a special kind of person to devote their lives to helping wild places and wildlife. What qualities or characteristics do you two possess that has helped you do this work and be so successful at it?
I think compassion, curiosity and a sense of adventure are all important qualities we possess. Curiosity is so important to us to keep the enthusiasm going through difficult times.
Compassion for other life forms and a yearning to understand the unknown and to discover and explore has always been at the core of Dereck and myself. I don't believe everyone possess an explorer's gene, but as a young child I told my parents I wanted to explore, to travel, and discover Africa. This is how I still feel.
Being tenacious, never giving up no matter what it takes, has also helped us. Dereck and I are never scared to take on huge issues. As the issues get bigger, so do our ideas, projects and solutions.
We may get disappointed in ourselves or by an outcome but we never let this disappointment slow us down. Rather, it drives us on. We won't stop until we have done everything in our power to conserve Africa's wilderness for future generations.
It also helps to be the type of person who has a set of ethics and sticks to them, even when times get tough. If you want to set an example and inspire others to do the same, you must know what you stand for and live and breathe it.
We are both creative, which helps us communicate with our audiences by pushing the boundaries with our films and conservation solutions.
From all that you have accomplished, what are you most proud of?
One of our main goals is to turn ex-hunting land into nature reserves so they will be protected in the future. We have had a number of successes on this front. The Selinda reserve was heavily hunted and poached eight years ago. We shut down hunting there in 2006 and the area is now teeming with wildlife.  
We are equally proud of the close relationships we have been able to develop with wild animals.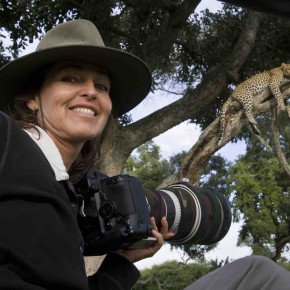 By giving them total respect, we have been accepted into their world, which is an immense privilege. Our work with Legadema, the little leopard I mentioned earlier changed our lives and turned us into Ambassadors for Cats, resulting in the birth of the Big Cats Initiative with National Geographic.
Hearing from people all over the world that our work has inspired them to be ambassadors for the natural world is equally as rewarding for us.
If you aren't already a part of our tribe at SavingWild, sign up here to receive future interviews with the world's top conservationists including Jane Goodall, Daphne Sheldrick, Laurie Marker, and many more:

Learn more about the work of Dereck and Beverly Joubert:
If you were inspired by this post, please like and share it: