For those of us living in the northern hemisphere, Spring has officially arrived.
It's that time of year when nature beckons for us to come outside, walk barefoot on the land, lay on the ground, smell the flowers, talk to the birds.
The Japanese term for spending time in nature is shinrin-yoku, or forest bathing. Studies have shown that devoting a few hours to lingering in nature generates enormous physcical, emotional and spiritual health benefits. And Spring is the perfect time for forest bathing.
Phelps Lake is one of my favorite spots in Wyoming's Teton National Park. Actually it's one of my favorite nature spots in the world.
The easy 2-mile hike to the lake wanders over loud, fast- moving cold rivers, through pine and aspen forest on the edge of open meadows. Black-capped chickadees welcome spring with song, and wide-cheeked marmots watch from sun baked rocks as I pass by.
When I'm at the lake, lying down on a half-submerged boulder, my heart is ripped wide open. It's the glassy stillness of the water, the reflection of granite mountain peaks,
and the exquisite silence that brings me to tears each time I visit.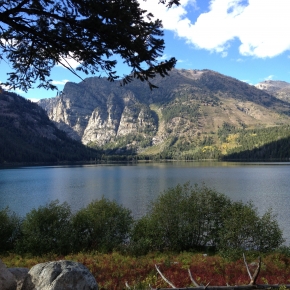 Terry Tempest Williams even wrote a poem about 'my place' called A Meditation on Phelps Lake.
Here's an excerpt:
"Wind breaks through pines.
Light animates granite.
An eagle soars – its shadow crosses over us.
All life is intertwined.
We recognize the soul of the land as our own."
We all need a place in nature that changes us just for having been there. A place where we "recognize the soul of the land as our own." We all need forest baths, preferably on a daily basis.
If you don't already know of a place in nature that inspires you, touches you, and beckons you, search for that place this Spring, and then visit it as often as you can, all year long.
If you already know 'your place', tell me about it in the comments below.
If you were inspired by this post, please like and share it: