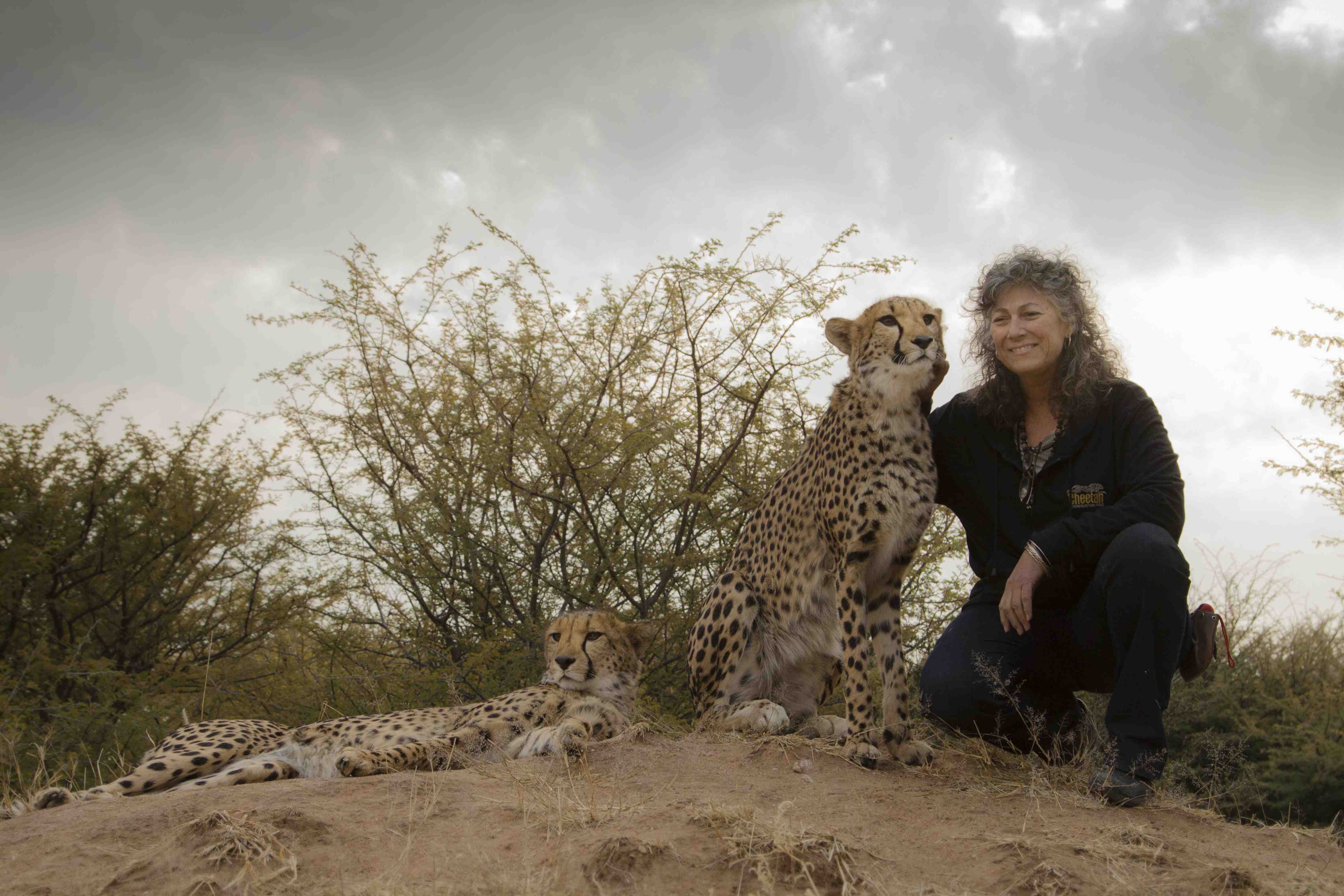 Laurie Marker, founder of Cheetah Conservation Fund, says if humans don't act to make big changes now, in a few years there won't be enough cheetahs remaining in the wild to save the species from extinction. With an estimated 10,000 left in the wild, cheetahs are Africa's most endangered big cat.
SavingWild.com talks to Laurie Marker about her life's work to save the wild cheetah – how she got started, how she stays inspired, and how we can help.
Where did your love of animals come from?
I grew up on a small farm and spent most of my spare time riding horses and have always been close to nature and loved animals. Riding horses is still one of my biggest passions!
When did you decide to devote your life to saving cheetahs?
In 1973 I moved to Roseburg, Oregon to start a wine vineyard. Nearby there was a place called Wildlife Safari where I later got hired as a veterinary clinic attendant and children's zoo head keeper.
My job included working with animals that needed special attention, including orphans. I raised guanacos, monkeys, boats, goats and lions. Then I met a cheetah cub born at the Safari and was allowed to care for it. Looking into those deep, amber eyes hooked me. I wanted to know more and more about this fascinating animal, and the more I asked, the more I realized the only thing anyone knew was that cheetah were difficult to breed in captivity, had a short life span, and their numbers in the wild were decreasing.
It's then I decided I'd be the person to find out everything I could about cheetahs. Little did I know that cheetah cubs' eyes would change my life forever.
How do you stay inspired in your work despite the increasing negative issues facing cheetah and other African wildlife today?
When I first visited Namibia in 1977 I learned that livestock farmers considered cheetahs to be vermin. They were killing hundreds of cheetah each year. When I moved to Namibia in 1991 most farmers thought I was strange, but I sat with them, listened to them, and learned everything I could from them. Some of them had the most negative attitudes, but I listened because I knew in their minds they had valid reasons to shoot cheetahs.
I didn't want to judge. I wanted to try and understand, so we could work together. I guess it was all about determination. I don't allow any negativity to stop the course of my work. I can't allow anything to affect my inspiration, because the wild cheetahs don't have time.
What personal sacrifices have you made for your work?
Some people may look at my life—with so many demands on my time, endless travel, working on weekends and holidays and every moment I'm able—and call that a personal sacrifice. But honestly it's an honor to represent the cheetah.
It would be a sacrifice NOT to live each day doing all I can to protect this species so the cheetah doesn't end up as just a photo in a book of what used to roam our wild places.
From all that you have accomplished, what are you most proud of?
I mentioned earlier that when I came to Namibia farmers saw cheetah as vermin. Now, that's not always the case. Sure, there are still issues but Cheetah Conservation Fund is moving the needle. With your help we can continue that movement and ignite even bigger change in the future.
How can we inspire the next generation to care about wildlife and wild places?
Through Education. One cannot love what one doesn't understand. It is our responsibility, as adults, to teach our kids the importance of healthy eco-systems, of maintaining biodiversity. From a tiny insect or plant, to a magnificent elephant or whale, there are a myriad of live organisms that depend on one another, and ultimately, they depend on us, humans, just as we depend on them.
If we can impress upon today's young people that conservation is everyone's responsibility, and that it must benefit wildlife and humans alike, we will be ensuring that the next generations become stewards for our planet.
The cheetah is the central focus of my work, but I know that to save the cheetah I must take into consideration the species that share habitat with this iconic predator, as well as the humans in whose hands the cheetah survival rests. I know that to save the cheetah, we must save the world.
Sign up (in the subscribe box to the right) to be the first to get more interviews with the world's top wildlife conservationists.
Photo credit: John Bower
Learn more about the Cheetah Conservation Fund and Laurie Marker.
If you were inspired by this post, please like and share it: