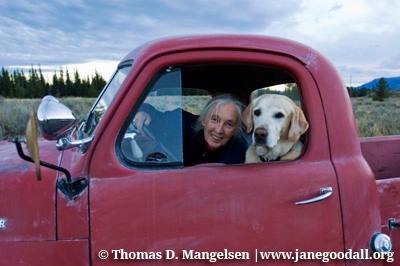 If you have been following SavingWild.com you know I often write about my mentor and friend Dr. Jane Goodall.
Besides the obvious reason – Dr. Jane is a mentor for most of the people on the planet who care about wild animals and wild places – there are other, more intimate reasons why I write about her.
I have known Jane all of my life through a family connection (described below), and worked closely with her in my role as Africa Adventures Specialist for the Jane Goodall Institute.
I know we all love a glimpse into the real lives of our favorite celebrities so I hope you enjoy these.
Fun Bits about Jane Goodall I doubt you know:
1. Celebrity Friends
As you can imagine Jane has many celebrity friends who admire her and support her work. People like Pierce Brosnan, Cameron Diaz, Justin Timberlake, Howard Buffett, Angelina Jolie, Courteney Cox. 
And Jane Fonda. 
The musician Dave Matthews is also a great fan of Goodall, and she of him. He even wrote a song for Jane and auctioned off one of his guitars to raise money for her work.
There is a photo of Dave and Dr. Jane together in a bathtub.It was an old claw-legged tub without plumbing that was sitting outside. No they were not naked.   
The photo was taken by another of Jane's good celebrity friends, photographer Tom Mangelsen whom I wrote about recently. (Tom took the featured photo for this story of Jane in the red truck). 
2. Travel Schedule
Many of you may know that Jane Goodall travels about 300 days each year.
With that amount of traveling, and her celebrity status, you would think she would insist on flying first class on all of her flights. She doesn't. She flies coach on flights that are two hours or less, and business or first on longer flights (usually sponsored by those individuals and organizations requesting her presence) .  
3. Simple and Basic
Although Jane is a world known celebrity, her life-style is simple and basic. Those that know her well are aware she doesn't have a lot of possessions. She lives out of one piece of carry-on luggage and one checked bag when she travels, and spent years sleeping in a simple mosquito-net covered cot while living and working in Africa.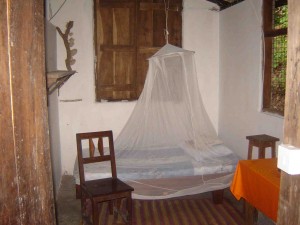 [Do you know what item Dr. Jane carries along with her wherever she goes? Leave your answer in the comment section below.]
4. Plants and Trees
Jane is famous for her work with animals, specifically chimpanzees, but she loves plants and trees. As a young girl she spent hours in her family's garden, high up in her favorite birch tree reading books about Tarzan and Dr. Doolittle, and she recently wrote a book about plants called Seeds of Hope. 
5. Visits to Gombe
Jane Goodall rarely has time to visit the place where her work as a primatologist gave her worldwide recognition – Gombe Stream National Park in Tanzania.
When she is there she takes time for herself. Following a simple breakfast of a banana and a cup of coffee she spends the day walking alone in the forest.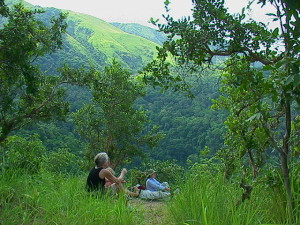 6. Home
Although Jane Goodall has three places she can call home – one in Gombe Stream (now a historical building owned by the Tanzania Park Services), one on the ocean in Dar es Salaam, Tanzania, and another, her families home where she grew up in Britain, she is rarely at any of them.
7. Grub
Jane has one son (from her marriage to Dutch photographer Hugo van Lawick) nick-named Grub, who has a home in Dar es Salaam next to his mom's house.
8. Inspiration
Jane credits her childhood dog Rusty, and her mother Vanne, for giving her the inspiration and love that helped shape and inform who she is.
9. Vegetarian
It is probably not a surprise, considering her love of animals, that Jane Goodall is a strict vegetarian. There is a story that while eating in a restaurant Dr. Jane found a bug in a bowl of soup. Instead of returning the soup she gently retrieved the little bug and set it on a napkin to dry out it's wings, thus saving the bug's life. Then she carried on eating her meal. 
10. My Grandfather
Jane Goodall's mother Vanne, was good friends with my grandfather, Denis Robinson. He, not Jane's father, drove Vanne with baby Jane back from the hospital when Jane was born. Why my grandfather and not Jane's own father? Because her father owned a fast car and Vanne thought the car too unsafe to carry baby Jane home. 
11. Favorite Cocktail
If you had Jane Goodall over for dinner and offered her a cocktail she would choose Whiskey. (And she loves chocolate according to a friend of mine who once gave her a box for her birthday).
Join the tribe here at SavingWild.com

If you were inspired by this post, please like and share it: