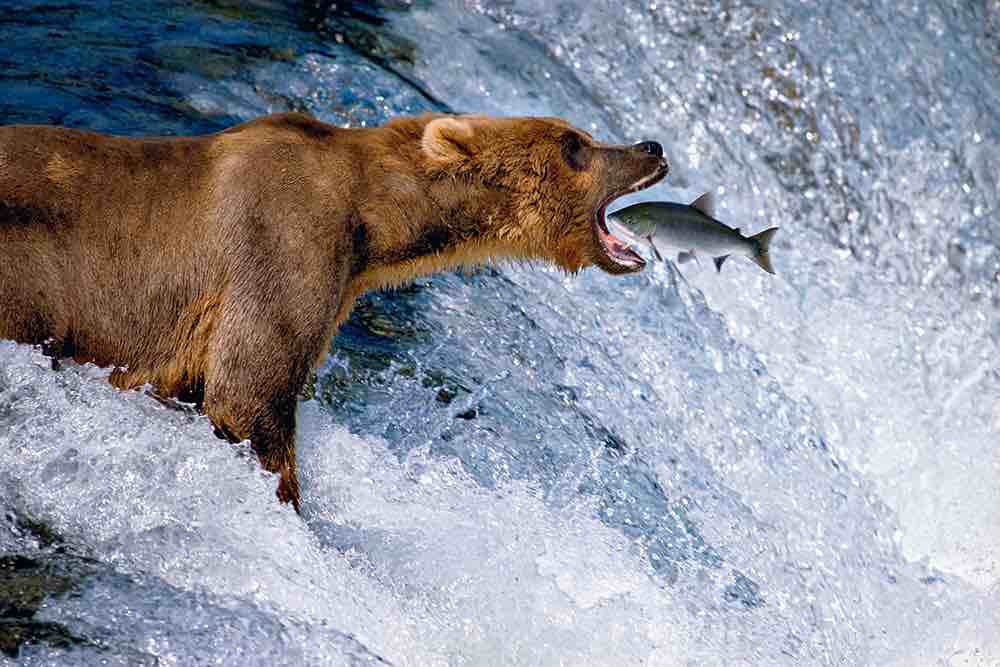 Tom Mangelsen. Although he is counted among the world's greatest wildlife photographers, you may not know his name. But I bet you'll recognize his work. Especially this one: titled Catch of the Day, it's one of the most widely circulated and published wildlife photographs in history.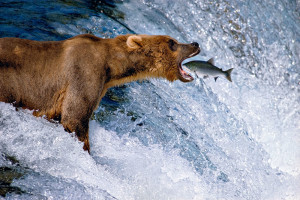 Films, like Disney's Lion, Chimpanzee and Bear movies, and documentaries such as The Cove, and Black Fish, as well as social media, are all increasingly important catalysts for conservation. And so are the images of Tom Mangelsen and other wildlife photographers.
As wildlife and wild places dwindle under the pressures of habitat loss, global warming, illegal trade, population growth and more, the closest many people around the world will ever come to these last great wild places and wild animals will be through an image of them.
And that is exactly why Tom lugs massive amounts of camera equipment around the world: searching for patterns and shadows in the sand dunes of Namib, trekking in Patagonia and India to find pumas and tigers, lying in bird and elephant seal poop in South Georgia, and sitting still for days at a time in bird blinds in Mexico, hoping to capture a once in a million moment that will inspire people to care.
As Todd Wilkinson writes in Tom Mangelsen's just released book, The Last Great Wild Places, "He chronicles only wild subjects, brooking no shortcuts, venturing inveterately into the jaws of abominable cold where cameras freeze and hands turn frostbitten; through sweltering heat where the lens glass fogs over from steamy humidity; hunkering down in torrential downpours and braving outbacks where swarms of mosquitoes run riot on exposed flesh." Often times alongside predators higher on the food chain than Mangelsen himself.
I've been with Tom in his hometown of Jackson Hole, Wyoming while he photographed the famous grizzly bears of Teton National Park. I carried one of his massive telephoto lenses to join a group of world-renowned photographers in front of a cottonwood tree clicking photos of fledging great horned owls peering out of a heart-shaped hole.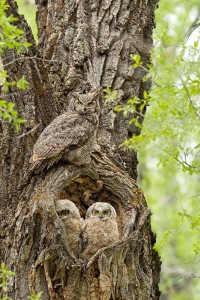 One time I found Tom behind a bush, semi-hidden from a crowd of tourists and other photographers watching a great grey owl. "He hasn't eaten for 2 hours, so he should be hungry again soon," explained Tom. "I have a million shots of grey owls against old weathered barns," he told me. "I'm waiting for him to hunt."
That's Tom's genius. He understands animals, their biology, behavior, desires and fears. He often plans his shot around what he anticipates the animal will do and he is often right, observes Wilkinson.
He's searching and waiting for that split second when everything comes together – the light, the animal, the bird, the background, the shadows. It takes quiet observation and mostly patience to find those moments. Then it takes a combination of other qualities that are uniquely Tom Mangelsen – his background in biology, his passion for animals, and his deep commitment to conservation – to capture that moment in an image that will inspire others.
Join others who share your passion for Wildlife and Wild Places: 

"It seems to me he has the same kind of reverence for the spiritual essence of the wilderness as the Native American who believes that life on Earth is sacred, a gift from the Creator," says Tom's dear friend and one of his greatest influences, Jane Goodall.
That gift is evident on every page of The Last Great Wild Places where forty years of Tom Mangelsen's work are displayed in a 2 foot by 1 foot, 10 pound testament to Tom the conservationist, Tom the artist, and Tom the lover of all things wild.
"I believe this book will stir in some a wanderlust they never knew they had and waken a desire for them to go into the wilderness themselves. I believe it will strengthen the commitment, shared by many who have experienced the wild places, to work to preserve them; and I hope it will inspire others to join that dedicated fellowship. Together we must ensure that the extraordinary beauty of nature, captured here, remains a reality," says Jane Goodall in the foreword to The Last Great Wild Places.
It is with reverence that I turn the pages of my copy of The Last Great Places. Reverence for the wildlife and wild places the book showcases, and for all that Tom Mangelsen has done and continues to do for saving them.
Get your Copy of The Last Great Wild Places at Tom Mangelsen's web site or visit one of his galleries. 
If you were inspired by this post, please like and share it: