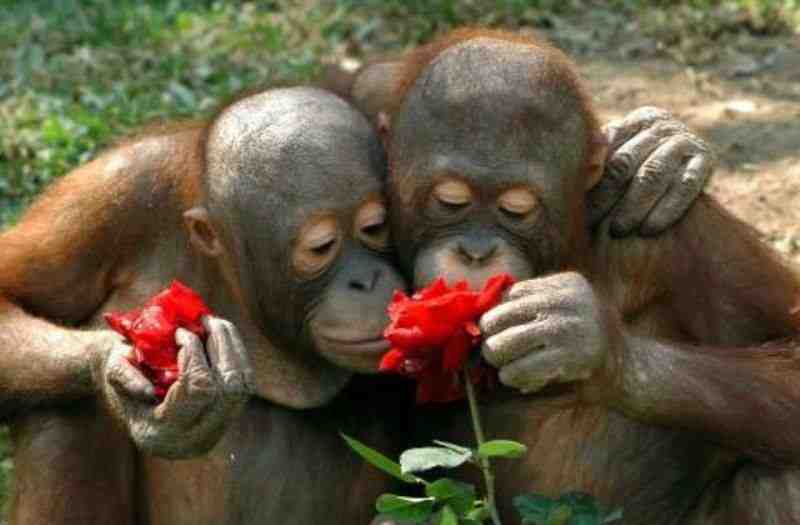 You probably don't realize this.  But when you grab a protein bar, butter your toast, or do the laundry, you are likely contributing to the destruction of the most bio-diverse rainforests in the world. Because of one ingredient: Palm Oil.
But don't feel bad that you didn't know this. Most people in America are unaware of the problems with palm oil.
Until last year I didn't know much about it either.
I didn't realize that palm oil, an ingredient found in approximately 40-50% of household foods and products in the United States, Canada, Australia and England, is linked to deforestation, wildlife habitat degradation, climate change, animal cruelty and indigenous rights abuses in Sumatra and Borneo (and increasingly in Africa) where palm oil is produced.
Wildlife-rich forests are being chain-sawed at the rate of thirty square miles a day to be replaced by immense blocks of palms planted in straight, mile long lines.
Palm oil plantations drive away all the forest animals and turn once rich areas into what conservationists call "biological deserts".
And for what? For an inexpensive vegetable oil that is used in our  soaps, cereals and crackers.
SOME OF THE COMPANIES AND EVERYDAY PRODUCTS CONTAINING PALM OIL:
McDonalds, Pepperidge Farms, Dairy Queen, Dunkin' Donuts and Cover Girl, Warburtons, Hovis, and Kingsmill all use Palm oil.
The bestselling margarines Flora, Clover and Earth Balance contain Palm oil as do Special K, Crunchy Nut Cornflakes, Mr Kipling Cakes, McVitie's Digestives and Goodfella's pizza.
Palm oil is found in KitKat, Galaxy, Kind Bars, Dairy Milk and Wrigley's gum.
Persil washing powder, Comfort fabric softener and Dove soap all contain Palm oil.
'The wholesale destruction of rainforests to make margarine may be the most striking of all examples of environmental lunacy."
If nothing changes, species like the Orangutan and the Sumatran tiger could become extinct in the wild within the next 3-10 years. Palm oil development makes capturing animals easier for  poachers and wildlife smugglers who sell wildlife as pets, use them for medicinal purposes or kill them for their body parts.
The destruction of rain-forests is not only a conservation emergency, but a major animal welfare crisis as well.
It's a massive problem. But there is some good news.
Madison Vorva (Madi) is an environmental activist focused on this issue since 2007 when she co-founded Project ORANGS to get Girl Scouts USA to use a deforestation-free source of palm oil in their cookies. She's been interviewed by the Wall Street Journal, TIME magazine, ABC World News and NPR and garnered the support of over 140,000 consumers including our mentor, Dr. Jane Goodall. She also was the recipient of SavingWild's 2014 Wildlife Hero Award.
Madi talks to Lori Robinson at SavingWild.com about the issues with palm oil, if palm oil can really be sustainable, and how each of us can make a difference.
PALM OIL QUESTION/ ANSWER SESSION WITH MADISON VORVA
1) How would you rank the level of destruction caused by palm oil  compared to other environmental and wildlife issues?
I think that unsustainable palm oil is one of the largest threats to biodiversity and climate change because of the massive deforestation rates associated with it.
Indonesia and Malaysia control the market, producing about 85% of the world's palm oil. In order to produce these large quantities of oil palm, both countries have large tracts of land under cultivation: Indonesia has around 6.1 million hectares of oil palm plantations and Malaysia has 4.0 million hectares of oil palm plantations[i].The Indonesian government plans to increase production by converting about 18 million hectares of rainforest into palm oil plantations by 2020[ii].
Growing demand for palm oil is also causing deforestation in South and Central America and increasingly in Africa.
Deforestation is responsible for 80% of Indonesia's carbon dioxide emissions[iii], making it the third largest emitter of greenhouse gases in the world (behind the United States and China)[iv]. According to the United Nations, Malaysia's deforestation rate is accelerating faster than that of any other tropical country in the world, partly because of its increasing palm oil production[v].
Deforestation not only contributes to climate change, it also results in habitat loss for endangered species ( the Sumatran tiger, Pygmy elephant and the orangutan).
Biodiversity loss from deforestation is a serious concern because only around 15% of animal species found in primary forests can survive in palm oil plantations[vi]. When orangutans and other endangered species enter the plantation in search of food, they are often killed by plantation workers as pests because they eat the palm fruits.
Today, only 6,600 Sumatran orangutans remain in the wild and the number is dwindling.[vii].
Additionally, the U.S. Department of Labor links palm oil production to human rights abuses including child labor in Indonesia and forced labor in Malaysia[viii]. Tens of millions of Indonesians and Indigenous people rely on forests for their livelihoods and food sources[ix].
2} Do we even need palm oil? What are the alternatives?
Palm oil is the most widely used vegetable oil in the world. It's used in many products, as a traditional cooking oil, and as biodiesel. [See list of some of the products at the end of this post].
It has a long shelf life and is solid at room temperature. These properties allow it to be used as a glue to stick coatings on foods. Also, palm oil is trans-frat free, so companies use it as an alternative to hydrogenated vegetable oils.
Other vegetable oil blends as well as butter can be used as replacements.
Palm oil is the cheapest option because it is the highest yielding and 5-10xs more productive than other vegetable oils[1]. About 3.41 tons of palm oil can be produced per hectare compared to .68 metric tons of rapeseed oil and .36 metric tons of soybean oil[xi].
The problem with palm oil is not the oil itself, but unsustainable production methods.
Oil palm plantations could become even more productive if best practices are used:  limited fertilizer and pesticide use, the installation of drainage systems to reduce flooding, the development of high yield producing strains of oil palm and the use of cover crops.
Therefore, the problem with palm oil is not the oil itself, but unsustainable production methods.
3} There is a lot of talk about sustainable Palm oil? Can you tell us what that means and if it is a real solution to the destruction caused by palm oil plantations?
The palm oil supply chain is very complex which makes measuring and implementing sustainability standards a serious challenge. The fruit bunches from different plantations are often mixed together at the mills, then processed and shipped together. Because companies don't know where their palm oil is coming from, it's impossible for them to guarantee that their supply chains are environmentally and socially responsible.
In order to promote sustainability, many companies that use, trade or grow palm oil are members of an organization called the Round Table of Sustainable Palm Oil (RSPO).
Unfortunately, the RSPO's sustainability guidelines contain loopholes that do not sufficiently protect peatland, wildlife, forests or people. While primary forests and High Conservation Value forests (forests that contain a high level of biodiversity or have significant cultural importance) are protected under the RSPO guidelines, secondary forests can be cleared. Also under the RSPO guidelines, growers are asked to "avoid extensive plantings" on peat land which consist of areas larger than 100 hectares, instead of a complete conversion ban on peat[xii].
THE GOOD NEWS
It is possible to grow palm oil while protecting forests, people and the climate. In 2013, the Palm Oil Innovation Group was founded by social and environmental NGOS and palm oil producers in order to design deforestation and conflict free standards that improve upon the RSPO's questionable sustainability guidelines. These standards require that palm oil plantations only be planted on previously cleared, degraded land and that the supply chain is transparent and traceable back to the plantation.
Both High Conservation Value and High Carbon Stock forests must be protected, and there are additional protections for both indigenous communities and plantation workers[xiii]. Additionally, deforestation-free standards require that companies adhere to all applicable local, national and international laws.
Some companies have taken the lead on adopting deforestation-free palm oil policies. In 2011, Golden Agri-Resources, the second-largest palm oil producer in the world, and Nestlé, the largest palm oil user in the world, committed to transitioning towards deforestation-free supply chains after Greenpeace launched a campaign against them[xiv].
With the help of an NGO called the Forest Trust, both companies have identified sources of deforestation-free palm oil that meet the higher sustainability standards.  Since then, Wilmar (the largest palm oil trader) and consumer companies like Kellogg have adopted deforestation-free policies as well. While deforestation-free commitments are an important first step, it is crucial to practice transparency by implementing these policies within a reasonable time frame, verifying on the ground changes through third party confirmation and by providing regular reports on the transition to new sustainability practices.
4) I have noticed that palm oil is in many packaged foods that are not the best choices for a healthy lifestyle.  So simply avoiding packaged snacks, and desserts is a way of eliminating many of the palm oil products out of your diet. Other than not buying products with palm oil in them, what else can the readers at Africa Inside do?
Unfortunately, there is no "quick fix" to the palm oil problem, because realistically, palm oil production will only continue to grow. In order to shift the entire palm oil industry towards more sustainable practices, consumers (including AfricaInside's readers!) must demand deforestation-free palm oil in their products.
Companies will respond to consumer pressure and demand deforestation-free sourced palm oil, forcing palm oil growers to improve their practices. People can write letters and sign petitions to companies asking for their favorite products to contain only sustainable palm oil. Check out the Rainforest Action Network and the Union of Concerned Scientists palm oil campaigns for more ways to get involved.
5) It takes a special person to do what you do. What qualities do you possess which have led to your success and longevity with your work?
Passion has fueled my cause, giving me conviction that we can, and should do all that we can to help create a more sustainable world. I believe it is our daily actions: how we treat ourselves, other people and animals, what we choose to buy and the examples that we set for others that truly matter and that accumulate to make a difference.
I would love to hear your thoughts on palm oil in the comment section below.
**For  [i] – [xiv] references to Madi's facts on palm oil, please contact me and I will send you the list.**
If you were inspired by this post, please like and share it: