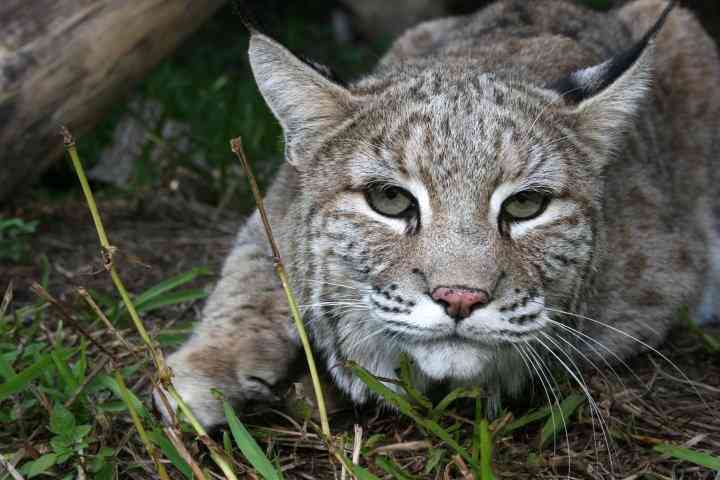 Last week I was hiking a woodsy, oak-tree studded trail a few blocks from my cottage and spotted a bobcat. I had not seen a wild cat in over a year so I was excited. Until I saw the animal move.  The bobcat was walking as if it were drunk. I didn't understand at first, and then my heart sank as I realized I was witnessing the slow painful death of this beautiful wild bobcat as a result of being poisoned from a common house hold product.
You may have seen the news about dogs being poisoned in Colorado with toxic meatballs. There are many stories of pets, wildlife and even people getting sick and dying because of the ingredients used in common rat and mice poisons.
During nearly two decades of research in and around the Santa Monica Mountains in California, Park Service scientists have documented widespread exposure in carnivores to common household poisons. Of 140 bobcats, coyotes and mountain lions evaluated, 88% tested positive for one or more anticoagulant compounds. One of the main culprets is the popular brand d-Con homeowners use to kill mice and rats. 
The product causes death in mice (and all animals) by thinning their blood to the extent that the animal hemorrhages. But the death is a long slow one, causing an unquenchable thirst aimed at driving the rodents away from buildings, but which then makes them easy prey for wildlife and pets. 
This is what was happening to the bobcat I saw. It had probably eaten a poisoned rodent and was suffering the effects of second hand poisoning. The dying cat was hemorrhaging and it's thirst had led it to the last remaining puddle in a drought-effected California creek. Two days later I walked the same trail. There was an undeniable stench of a rotting carcass at the very spot I last watched the magnificent bobcat taking it's last breaths.
The poisons used to kill rats and mice also affect protected or endangered species, including golden eagles, northern spotted owls and San Joaquin kit foxes.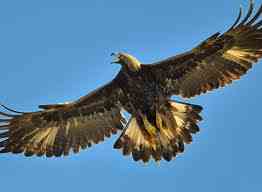 SAVING WILDLIFE FROM THESE SENSELESS DEATHS 
Reckitt Benckiser, the maker of the popular d-Con rat poison is one of 17 manufacturers of rodent poisons, but it is the only company that has refused to alter its packaging and ingredients to comply with federal safety standards. 
Now, after years of battling federal environmental officials, the maker of d-CON has agreed to stop producing for the consumer market some of it's rat poisons. Read that sentence again so you understand the limits of their actions.
 Jonathan Evans of the Center for Biological Diversity in San Francisco, says "While the fight isn't over until all of these hazardous products are off the market, this decision keeps the worst of the worst products from residential consumers."

Quote taken from LA Times article by Martha Groves.
In my view, Reckitt Benckiser has done a good job of 'green washing'.  
There are still too many poisons in their products (and on the market in general) that are toxic and lethal to our children, pets and wildlife.  And, the poisons that have been banned to consumers will still be available for use in agriculture and by licensed pest-control operators. Among heavy users of the poisons are growers of illegal marijuana. 
Am I the only one that thinks that allowing these poisons to still be used in agriculture is a significant problem?
Isn't it the poisons used in agriculture that affect our larger wildlife the most? I mean, how often does a mountain lion come across the mouse bait of a residential home compared to being exposed to poisons in agricultural areas?
The point is, although environmental activists hailed the agreement by Reckitt, to take effect July 1, 2014, our work is not done for saving wildlife from poisons.
While I am the first to highlight and commend actions taken for saving wildlife and wild places, I also don't want to allow companies to 'green wash' by making the smallest possible concessions in hopes that the public will think the company is now environmentally concious and will leave the offending company alone.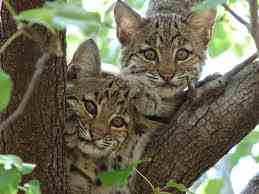 Luckily, in this case it is the consumer who holds the power to keep the pressure on Reckitt.
Here's how:
First and foremost, don't use d-con or other poisonous bait. If you must, make sure it is in a safe bait cage (without poison) where the animal enters and can be removed without wandering away to die and be eaten by pets and wildlife.
Or use a mouse trap that kills instantly.
I used these in my cabin in Wyoming. Although it took some getting used to, I threw the dead mouse (sometimes with the trap still attached) outside as an offering to the ravens.  
Reckitt Benckiser is the world's largest producer of household cleaning products, all of which are easily replaced by alternatives.
Simply NOT buying these products is any easy way to tell the company we are not fooled, and we want them to do more.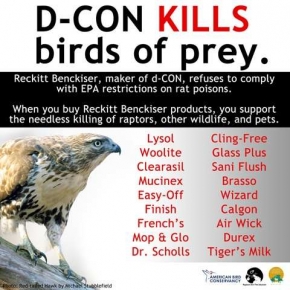 If you were inspired by this post, please like and share it: