If purpose is the reason you journey, then passion is the fire that lights your way.

Madison Vorva has been working to protect Orangutans and their rain forest habitats for almost half her life. She's been featured in Time, the Wall Street Journal, ABC World News, and the LA Times and won the United Nation's N. America Forest Hero award in 2012, and now the recipient of the 2014 Saving Wild's Hero Award. 
But guess how old Madison is?
You are probably picturing someone in their 40's or 50's, right? Well Madi, as her friends call her, is about to be 19. She started her Palm Oil awareness campaign at the age of 11 and is such an inspiration to me and everyone who hears her story, I want you to know Madison Vorva as well.
It was through a research project to earn her Girl Scouts Bronze Award in her home of Michigan that she first learned about palm oil and its devastating effects on forests.
"I remember one night staring at the computer screen, tears pouring down my face as I scrolled through pictures of orangutans that had been burned to death and hacked to pieces for entering a palm oil plantation [an area that was their home before the plantation owners destroyed the forest to plant the palm oil trees]. Initially it was my outrage that sparked my passion," says Madi.
Through her research, Madi discovered that 50% of the foods in our grocery stores contain Palm Oil. But what fueled her passion and focused the start of her campaign was the moment she read the contents of the cookies she was selling to earn money for her beloved Girl Scouts.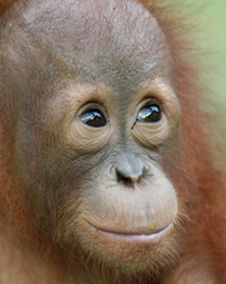 There, in the list of ingredients she saw the words palm oil. The very organization teaching Madi (and other girls) how to make a better world was contributing to one of the worst environmental issues facing wildlife and their habitats.
Along with fellow Girl Scout Rhiannon Tomtishen, who also wanted to help orangutans, Madison Vorva gave a passionate plea to their middle school telling students about the environmental destruction caused by palm oil plantations, hoping to enlist other kids to help them protest its use in Girl Scout cookies. Instead, they were laughed at and told the issue was way over their young heads. After all, they were only 7th graders, and the Girl Scouts were one of the largest, oldest organizations around. How could kids possibly make a difference on a large scale?
What I love about this story is that Madi has proved all the nay-sayers wrong. She and Rhiannon created Project ORANGS to bring this issue to a wider audience. Then, using what Madi identifies as the five most important characteristics for anyone who wants to make a change in the world – Passion, Confidence, Courage, Perseverance, and Leadership – they kept working at it. Through a media campaign, which featured their story and efforts, they won the support of hundreds of thousands of consumers, earning their invitation to meet with Girl Scouts USA at their national headquarters.
In 2011 Girl Scouts USA adopted a palm oil policy – agreeing to use less palm oil. This was the first policy change driven directly by girls in the organization's 101-year history. "It's a beginning but not enough," Madi says. The Girl Scouts said it "has directed its bakers to use as little palm oil as possible, and only in recipes where there is no alternative."
The Scouts will buy Green Palm certificates to support the sustainable production of palm oil. The certificates offer a premium price to palm oil producers who are operating within best-practices guidelines set by the Roundtable for Sustainable Palm Oil, an organization of palm oil producers, consumer goods manufacturers, retailers, environmentalist, and others. Ideally, Madi would like them to use a traceable, deforestation-free source of palm oil.
Madi and Rhiannon are now attending different colleges and are forging individual paths to continue their work. But their original team efforts as of late are having huge pay offs. This February, Kellogg's, one of the Girl Scout Cookie bakers, announced their commitment to only source deforestation-free palm oil by 2015. Additionally, Wilmar, which trades 45% of the world's palm oil and has joint ventures with Kellogg's, has also committed to sourcing deforestation-free palm oil. And other large companies (General Mills, L'Oreal, Mondelez) are joining them.
I was so impressed with Madi when I met her this past Fall (I have not met Rhiannon) I decided to make her Saving Wild's first recipient of the Wildlife Hero Award with a $500 cash prize. Partnering with Crane School in Santa Barbara we skyped Madi in to win the award, and to talk about finding one's passion and never giving up to an auditorium full of 4th – 8th graders.
If a successful presentation is measured by the number and quality of questions a speaker receives, then Madi was a mega hit. Over thirty kids got in line to ask questions after Madi spoke. The kids wanted to tell Madi they were going to stop eating foods with palm oil, ask how they could help, and what her favorite color is (green).
The kids then wrote to tell me what they learned. I love what 4th grader Pepper said, "I learned that a love for something can change everything, even a kid can change the world." And Evan wrote to tell me, "Palm oil shouldn't be used in anything! I'm a vegetarian so I never eat the slightest thing that has to do with slaughter."
Sixth grader Natasha summed up what she learned, "The talk made me feel like I can make a difference. It made me want to find my passion and go for it!"
And fourth grader Gigi said," I learned from Madi that even if someone tells you you can't do it, that doesn't mean you can't do it." Adding, "Even starting little can make you go to far away places." I agree, start little or big, but just start.  
Madison Vorva has a website called 'Change Starts with a Passion' for anyone looking to find their passion, figure out how to use it to make a difference in the world, fund raise, and communicate about it. It's a great resource in general but especially for teachers.
Madison believes that young people have tremendous power to make a difference for people, animals, and the environment within their local and global communities. And I'm sure you agree, she is the ultimate proof of that belief.
Next company on Madi's list? ABC Bakers, the other Girl Scout Cookie Baker, and Cargill, a major palm oil supplier. Subscribe to SavingWild. Donate to help Saving Wild encourage and award other young Wildlife Heroes like Madison Vorva.
If you were inspired by this post, please like and share it: