"We have hundreds more women for this than we expected."
It was an email I received a couple of weeks ago from Shivani Bhalla.  The "women" she was referring to are the Samburu tribe in Northern Kenya, and "this" refers to Saving Wild's Plastic Litter Clean up Project. 
You may be wondering why Saving Wild's program to rid Africa of toxic, harmful plastic bag litter would be a relevant project in the remote villages of Samburu, Kenya.
As Shivani explains in her report about the project (attached below), the women go to open air markets to buy sugar, tea, and other items. And, what do they use to carry those things home to their village? Flimsy, easily breakable plastic bags. Plastic bags have replaced traditional baskets all over Africa. In Kenya the bag litter is so prevalent it is often called the 'national flower'.
Saving Wild's solution?
Incentivize the people to clean up their environment, and stop using plastic bags.
How do we do this?
Through an exchange program.
Here's how it works
In exchange for bringing in 25 plastic bags or other litter from the area, the women receive a canvas shopping tote, recycled from America.
Exchanges involving thousands of women and totes, and hundreds of thousands of plastic bags cleaned from the environment, have taken place in Uganda, Tanzania, Zimbabwe, and Kenya.
For this project with the Samburu, having many more women than we first anticipated was only the most recent of the unexpected delays we incurred since Shivani and I first made a plan to work together when I led a group to visit her in Kenya last year.  
First, there was the delay from a severe drought, which caused the Samburu to leave their villages in search of water.  Then the big rains came, once again delaying our project for another couple of months.  
Finally, ten months after Saving Wild planned our plastic clean up project in Samburu, Kenya, the women were ready.
And that's when the women got so excited to be a part of this project. As word spread to more and more villages, we were concerned there would not be enough totes for everyone who wanted to participate.  
It is with much happiness that I can finally report, on February 17th,  with the help of the incredible organizational skills from Ewaso Lion staff, and much effort from the Samburu women to collect and sort the garbage, our project was a big success.
The environment was cleaned of plastic bags, the women were educated about the problems caused by plastic, and everyone received a shopping tote from America in exchange for the litter they cleared from the surrounding area.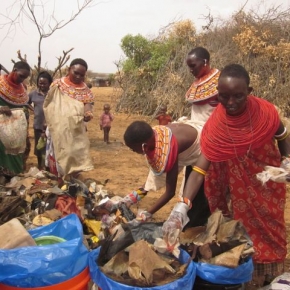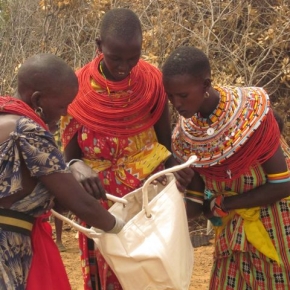 **Thank you to all Saving Wild's donors, and to Pat Halligan and LiveGreenBeGreen, and Pati Arsenau's class at St. Gregory the Great Catholic school in S. Carolina for collecting the totes, and donating funds towards this project. And thank you to the Ewaso Lion Project for partnering with us, and to the Samburu women for their enthusiastic response.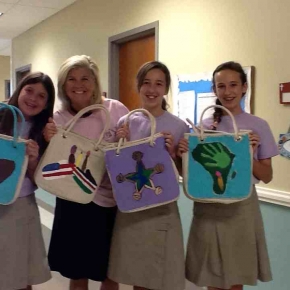 Help Saving Wild Rid Africa of Plastic Bags
 Donate. We need money for paying the helpers for each project. We pay the people to get the totes to sometimes very remote locations, to organize the exchange (when Lori Robinson can't be there personally), to dispose of the collected litter in a proper manner (often driving it to recycle centers or landfills a great distance away.
2. Add your name to our tribe of like-hearted animal lovers, and be connected to learn about future projects.
3. Click the logo below each time you shop at Amazon.com to benefit Saving Wild's programs.


Everytime I've done this project, I'm touched by the enthusiastic response to our shopping totes from America.  And I am motivated to re-evaluate how much I take for granted here in my country. 
Quote by LORI ROBINSON
 

Shivani Bhalla's report of Saving Wild's Bag Project in Samburu, Kenya:
If you were inspired by this post, please like and share it: