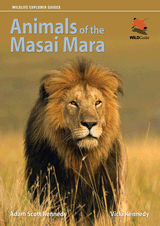 Best Kenya Safari Guide Books
Last February while in the Masai Mara region of Kenya I had the pleasure of spending an evening with Vicki and Adam Kennedy, the authors of the Kenya Safari Guide Books: Animals of the Masai Mara, and Birds of the Masai Mara.
Many people, including myself, dream of living and working in the African bush. But few people make it a reality. I recently interviewed this delightful couple about their life and work in the Masai Mara, making dreams come true, and their new Kenya safari guide books.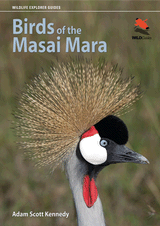 CLICK HERE TO : BUY KENYA SAFARI GUIDE BOOKS 
INTERVIEW:
How did two people who grew up in the UK leave everything to move to the Masai Mara, and then write safari guide books on the fauna there?
 I was brought up watching David Attenborough and became besotted with Africa!  Adam was only four when he became fascinated by the images in his uncle's collection of bird books. By the time I met Adam he was leading birding tours around the world, and it didn't take much to convince him to move to the African Bush. Two and a half years, and hundreds of applications later, we were offered camp manager positions in Tanzania (later moving to manage camps in the Masai Mara). That was early 2008, and we haven't looked back since.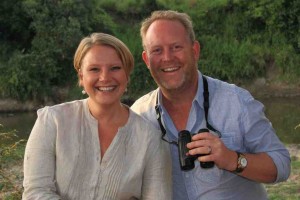 What, if anything, do you miss from the 'normal' world while living in the African bush?
 Obviously we miss friends and family but apart from that, there isn't a lot. We love being surrounded by wildlife every day; being late to work because a lion or elephant is relaxing outside the office door; waiting for the dwarf mongoose to join us for breakfast; the sound of hyena as we fall asleep, and the almost deafening dawn chorus of birds mixed with the chortle of hippo as we wake up. Sometimes we miss the convenience of knowing hot water and electricity will be available, or being able to pop to the shops, but we wouldn't trade what we've experienced.
When we had dinner together less than a year ago, you told me you were working on a safari book. But now you have not one, but two safari books for Kenya. How did you decide to do a safari book for the Masai Mara? It seems like a huge undertaking.
The wildlife tour guides working at one of the places we managed claimed to have never seen a certain bird species – a medium sized black bird- which we were seeing every day at camp.  Adam realized there were three similar birds – the Slate-coloured Boubou, Northern Black Flycatcher and Fork-tailed Drongo. The guides were not able to tell them apart, and he promised to make a reference sheet to help them see the differences. He got a little carried away, and the promised sheet turned into a book!  Shortly after Princeton University Press took on the Bird book they asked if we could produce a mammal guide.  So we did, and a series was born.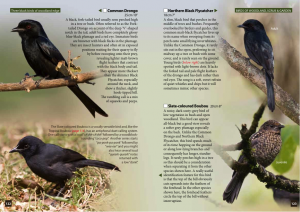 How do Birds of the Masai Mara and Animals of the Masai Mara differ from the other popular reference books used in the Mara – a bird book published in 2002 and one on mammals from 2007?
Our books are the only photographic guides specific to the Masai Mara. Our "Top Tips" section (from guides who have worked in the area for years) presents information about each species without the usual techno jargon but including interesting local lore.  For example, Aardvark in Swahili means "crying in the daytime". This is because to see the animal in the day is so rare, one would shed tears of disbelief and happiness. The Bird book is a completely new format – ordered by habitat, not families. Photos are more realistic than drawings, making the identification process easy.
You can view more pages from both safari books here:
http://press.princeton.edu/blog/category/birds-and-natural-history/masaimara/
I wrote a fun story about being on safari with my birder father -the age old safari dilemma of the Big 5 vs. Birds. What is your favorite animal, and Adam's favorite bird?
Mine is the elephant, because of the depth of emotion and feeling they have been proven to have. Adam has many favorite birds! If he had to pick one, it would be the Grey Crowned Crane. Watching the male's courtship dance it's easy to understand why they are the national bird of both Tanzania and Uganda.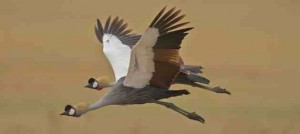 The african safari book companions are now available through Amazon, and websites and bookshops all over the world, while the human companions have also written bird and animal safari guide books for Tanzania's Serengeti region.
To receive future interviews with the world's top conservationists like Jane Goodall sign up here:

If you were inspired by this post, please like and share it: