If you're someone who cringes at the thought of spraying yourself with toxic Deet bug sprays, and ingesting antibiotics like Cipro in order to go on an African safari, then you've come to the right place.
There are many natural remedies, all great alternatives to the traditional items most safari operators suggest for their clients.
I've been traveling to Africa for over 30 years and have been using these alternatives and suggesting them to my clients for years.
I want to share my natural remedy safari tips with you.
Maybe you're not about to go on an African safari, but as you know,
Africa isn't the only place in the world with mosquitoes and the potential for Montezuma's revenge.
So read on for my favorite remedies for these and other issues you may encounter when going on safari, or traveling in general. In most cases I have given you links to the small travel size of the product.
My safari travel bag is never without the following: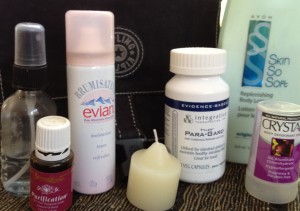 NOTE: THE NAME OF THE PRODUCT IS ALSO THE LINK TO BUY SMALL TRAVEL SIZES AND FIND MORE INFORMATION. 
Mosquito Repellent
 1.  Skin So Soft 
A body lotion from Avon that happens to be a natural repellent to mosquitoes. It's been a secret for years but Avon finally caught on to Skin So Soft's effectiveness in deterring mosquitoes, that it now has a product called 'skin so soft bug spray'. The lotion or the bug spray works. 
This is also a natural mosquito repellent. When lit, the incense will add a little scent to your tent, while at the same time deterring mosquitoes.
3.  Purification
Using Essential Oils is another way to deter bugs. Purification by 'Young Living' is a mixture of rosemary, citronella, tea tree, lavender, and myrtle oils. (other companies have copied the name but the ingredients are different).
Add a few drops to water in a small spray bottle and spray on your skin before sitting outside at dusk. (Make sure you are not allergic to any of the ingredients).
I also recommend Young Living's Purification for spraying the mosquito netting over your african safari bed, and your socks.
If you aren't going on safari anytime soon, use this oil to purify any hotel or other rooms that need 'a little help'. 
MORE SAFARI TIPS:
Avoiding Montezuma's Revenge
4.  Probiotics (any good brand will do)
Taking probiotics is a natural way to prevent stomach problems.
Take it daily while on safari. I give it to anyone on my tours whose stomach is feeling sensitive.
If you take the probiotics soon after you first feel any symptoms, it seems to prevent a full on attack of Montezuma's revenge. I have many clients who swear by it.
Staying Healthy 
I use colloidal silver spray on the plane (take the small travel size so you don't get stopped at the security check).
The spray adds moisture and protection to nasal passages, helping to avoid catching whatever it is that is flying out of the orifices of the coughing sneezing passengers who always seem to be sitting right next to me.
You can also ingest the suggested amount of drops onto your tongue for overall health and to ward off illness.
Staying Cool
6.  Evian Spray 
To cool down while on wildlife drives, simply spray a few spritz of Evian on your face and neck.

Also worth mentioning

Did you notice anything in the photo that I did not tell you about?  On the right, there is a roll-on of Crystal. 
It's a natural deodorant that really does work.

I hope you have found some useful safari tips and I hope you will stay connected to SavingWild.com by joining our tribe: