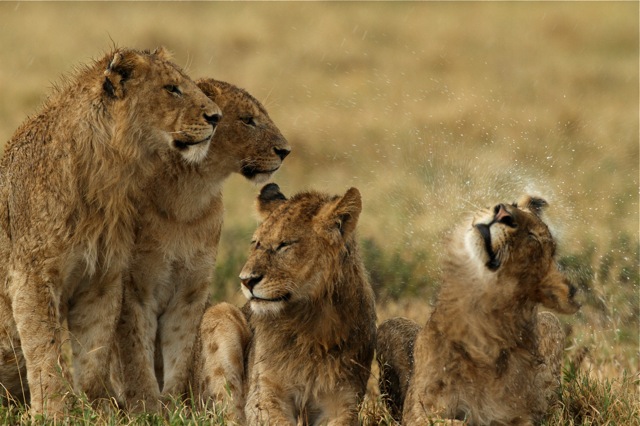 "There are some lions roaming around the suburbs," my host, Mickey told me in February when I stayed in his house in Karen, a posh suburb outside of Nairobi. 
How thrilling, I thought when I heard the news. It's the same thought I always have back home in California when someone tells me they saw a mountain lion in their garden– the lions are free and wandering like all wild animals should be.
But these stories rarely end well.
"What will happen to them?" I asked, thinking about the depredation permits (license to kill) given to anyone in California who deems a mountain lion a threat to livestock, humans, or a domesticated pet. Yes, although hunting lions in California is illegal, you can shoot a lion that has killed your chicken or pet cat. ( I love cats of all sizes but trading the life of a mountain lion for a domesticated cat does not seem exactly like trading apples for apples.)
"They've escaped from Nairobi National Park. They're smart. They somehow got through the park boundary fence, and so far have alluded the seven traps set by the KWS (Kenyan Wildlife Services)," Mickey says.
The neighborhoods near Nairobi National Park were full of fear because no one knew where the lions would show up next.  The park is unique in the world because it is the only protected land so close to a capital city.
Turns out, most of the people living in Africa have never even seen a real lion (or elephant, cheetah, chimpanzee …), and  as we all know fear of predators (whether we have seen them or not) is universal.
Flash forward to today. How did this lion story end?
One of the lioness' is dead, killed when it reacted aggressively (of course) to rangers trying for hours to dart it; the four cubs of their now dead mother have been captured and sent to the Nairobi Animal Orphanage. Spending the rest of their lives in captivity seems like unnecessarily cruel punishment for instinctively following their mother around. Why not move them to another national park, where the KWS is considering putting a second roaming lioness that was successfully captured and is being held at the KWS's Veterinary Laboratory while they decide?
I would love to hear from you on your  ideas about what should be done when predators interface with humans?
You can write to me in the reply box at the end of this story.
To receive future african and animal stories, don't forget to subscribe to AfricaInside.org
Photo credit: Thank you Gene Tremblay.
If you were inspired by this post, please like and share it: